Order a coffee!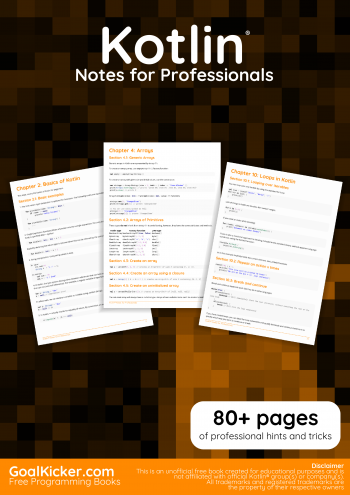 Kotlin® Notes for Professionals book
If you found this free Kotlin® book useful,
then please share it ❤😊
Chapters
Getting started with Kotlin
Basics of Kotlin
Strings
Arrays
Collections
Enum
Functions
Vararg Parameters in Functions
Conditional Statements
Loops in Kotlin
Ranges
Regex
Basic Lambdas
Null Safety
Class Delegation
Class Inheritance
Visibility Modifiers
Generics
Interfaces
Singleton objects
coroutines
Annotations
Type aliases
Type-Safe Builders
Delegated properties
Reflection
Extension Methods
DSL Building
Idioms
RecyclerView in Kotlin
logging in kotlin
Exceptions
JUnit
Kotlin Android Extensions
Kotlin for Java Developers
Java 8 Stream Equivalents
Kotlin Caveats
Configuring Kotlin build
Example book pages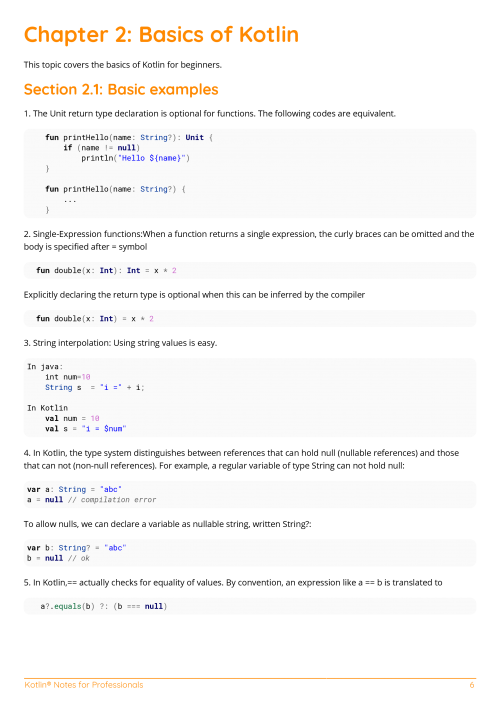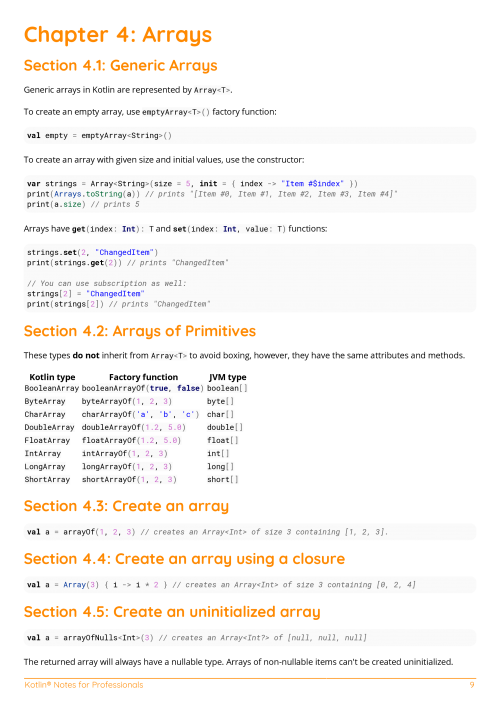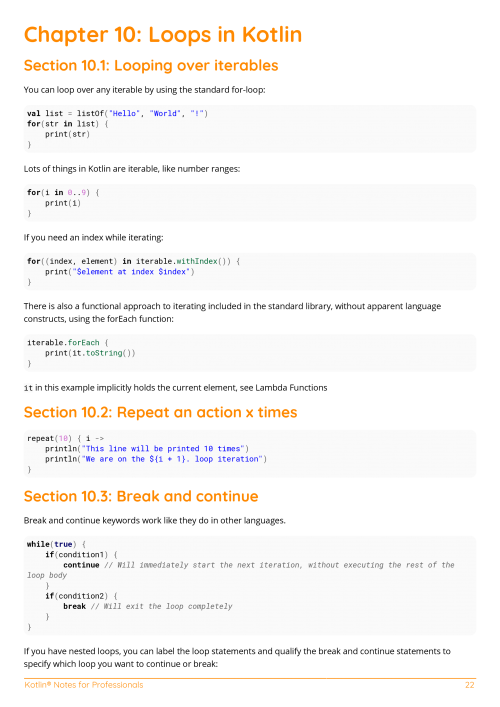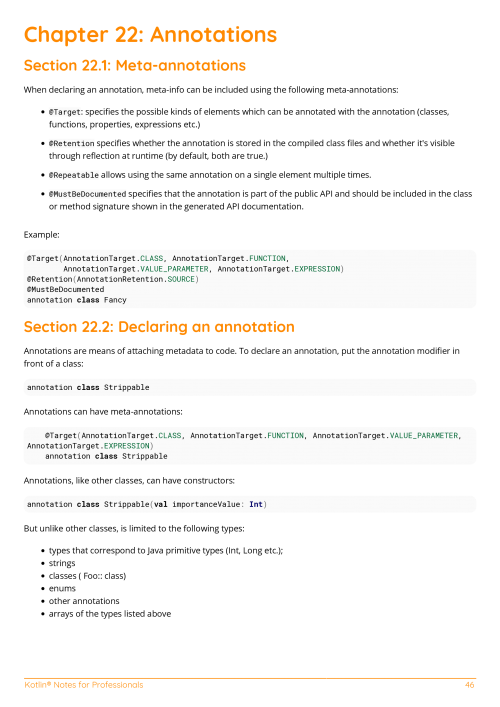 What people are saying about Notes for Professionals books
Good Technical stuff for beginners and intermediates who is looking to learn any technology.
Wow. This is awesome. Thank you!
Really nice and condensed collection, thanks to all co-authors
These free programming reference books are pretty nice http://books.goalkicker.com
Super useful for reference, many thanks for whoever did this. Instead of browsing, clicking, digging infinitely, now I have ONE in one place.
Wow! Awesome resource. Thanks a lot!
The Kotlin® Notes for Professionals book is compiled from Stack Overflow Documentation, the content is written by the beautiful people at Stack Overflow. Text content is released under Creative Commons BY-SA. See credits at the end of this book whom contributed to the various chapters. Images may be copyright of their respective owners unless otherwise specified
Book created for educational purposes and is not affiliated with Kotlin® group(s), company(s) nor Stack Overflow. All trademarks belong to their respective company owners
94 pages, published on May 2018
To support continued development and improvements to this book, please consider a small bitcoin donation: 1H63m55bw6KDYUaKU1mYLGrzDf4wcrVzhX
Order a coffee!